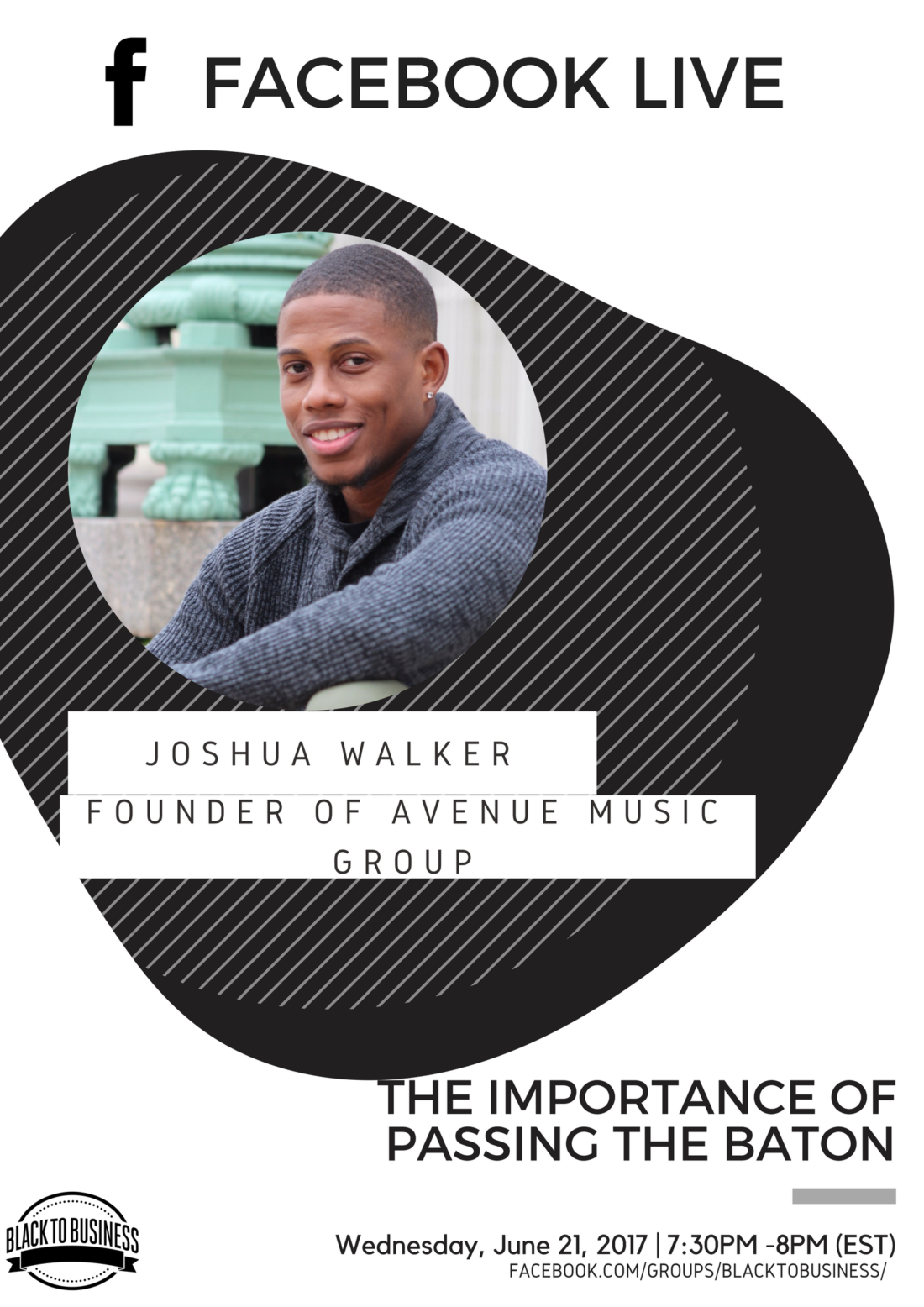 The Importance of Passing the Baton x Joshua Walker
On Wednesday, June 21st at 7:30PM-8PM  (est), Joshua Walker will be discussing "The Importance of Passing the Baton."
He will be discussing:
The importance of educating students on entrepreneurship in high school

Teaching time management, self education, & networking skills to help them excel 

Explaining how his program solves this problem

How businesses can incorporate social responsibility into their businesses

the importance of mentorship
Company Name: Avenue Music Group (AMG)
Overview of company: Avenue Music Group is a Non-profit focused on providing entrepreneurial skills to students in underprivileged areas of New York. Founder,

Joshua

Walker

, from Bed-Stuy, Brooklyn, is a young 24 year old who noticed throughout his upbringing that there were not enough black owned businesses in his community. Due to the lack of representation within his community, he created a relatable program that teaches the idea of entrepreneurship and other essential life skills through the use of music. He brings in a panel of young entrepreneurs in order to expose children to positive young role models as opposed to the negative ones they may come across in their daily routine. His innovative program has been welcomed by 70+ schools in the short time that it has been around, and is continuously being requested from more schools and libraries on a consistent basis! 
To learn more about Avenue Music Group, please visit: 
Or check him out on Instagram @AMG_CEO
Aside from

Walkers

non-profit, he also has a for-profit consulting service to provide business plans and other forms of advice to entrepreneurs that are unsure of how to take their businesses to the next level, he focuses on aspiring artists since his specialty is music, but don't let this fool you, his services are not limited to artists alone. He has worked with graphic designers, bloggers, clothing companies, foodies, and much more!
Did you miss it? That's okay, by joining the community, see past videos to see Joshua's session.